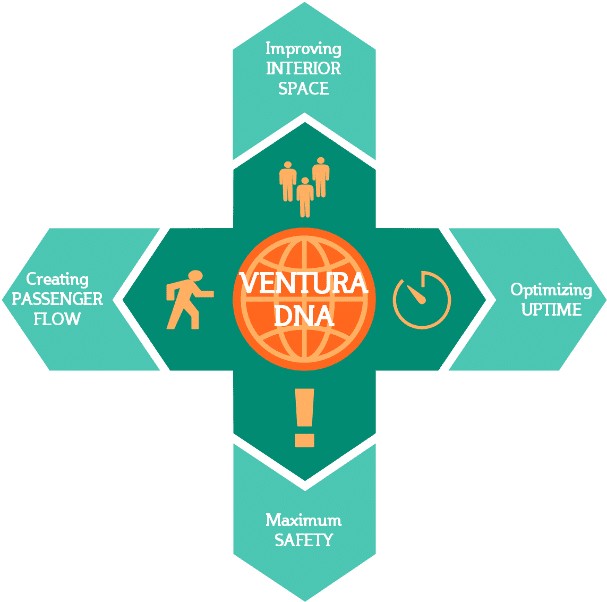 Important topics in today's public transport discussion are traffic congestion, modernization, passenger experience, clean fuels and safety. Ventura wants to contribute to these topics by enhancing the travelling experience for passengers and drivers. We have distinguished four key aspects to focus on.
They're part of the Ventura DNA:
– Improving interior space
– Creating passenger flow
– Maximum safety
– Optimizing uptime
By working closely with bus manufacturers around the globe, we are constantly developing our products. Different areas have different needs, but these focus points play a key role in public transportation around the globe.
Passenger flow and interior space
Public transport buses play an important part in the urban landscape. They are a part of a highly developed transportation system in urban areas, where safety and passenger experience play an important part. This is the context where Ventura door systems' function optimally: the city center, where different modes of transport compete for limited space and share the same square meter.

Using limited space efficiently is important, now more than ever. Modern public transport buses featuring Ventura's Plug Sliding door system contribute to this goal by optimizing safety and improving passenger flow. When a bus is halted at a stop, it is paramount to keep the dwell-time as short as possible, to optimize traffic flow. This also ensures a more efficient schedule and shorter commute.
Ventura's door systems' are tried and tested, with proven technology and millions of kilometers in service experience, they always work. The door systems' opening movement is rapid and smooth, which helps the passengers enter safely and fluidly. The Plug Sliding maximizes the width of the doorway so passengers can enter and exit through the same door. As an added option, the door can also feature a build-in LED lighting systems to indicate to passengers if a door can be used for entering or exiting a vehicle. This enables operators to separate passenger streams and contributes to a better passenger flow.  
The compact design of a Ventura door system maximizes the interior space in the vehicle. This ensures optimum use of the limited surface and increases the amount of space per passenger and the payload. Ventura door systems ensure an optimum passenger experience and take travelling by bus to a higher level.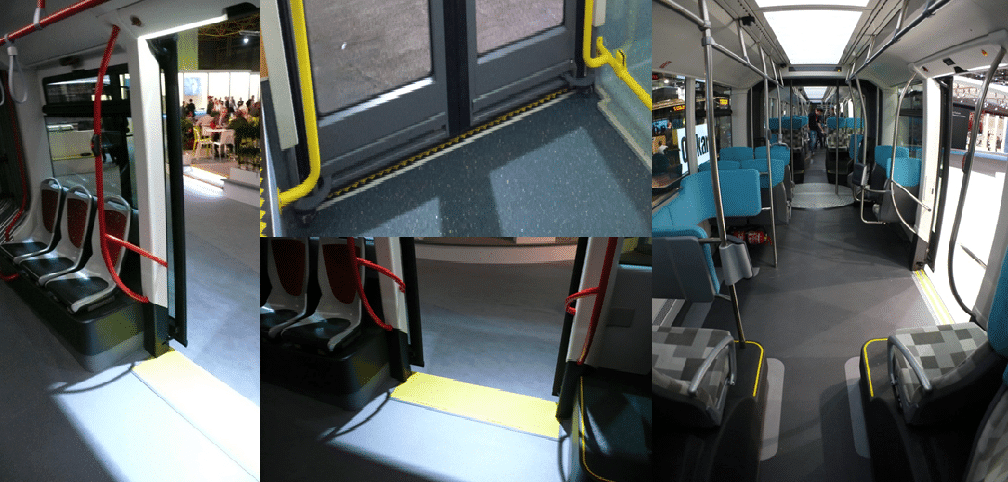 Simulation of a bus with two Inward Gliding doors, causing a long dwell-time, compared to a Plug Sliding door which optimizes passenger flow.
Let us tell you what we can do for you!